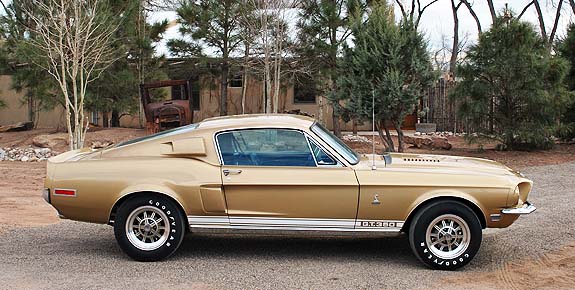 In 1968 Hertz continued buying Shelby's for their rentals – this car, # 1070 is one of them.
After disassembly it was determined that due to accident damage that both quarter panels and trunk floor needed replacement.  The right fender and door were also replaced.
The frame rail attaching point for the steering box and power steering slave cylinder had worked loose and stress cracked. It was repaired by cutting access holes in the rail and using extended bolts and lug nuts to hold it all together.   The entire area was cut out of the frame and repaired then welded back into place.
The car had been re-motored at some point with a 351 Cleveland and an FMX transmission.  After a long search a 68 coupe with a 302 4-V and C-4 was located in Corpus Christy, TX.  Several motors were found but this car's build date and the Shelby were with in days of each other.
The motor and transmission were rebuilt and installed after the cars body work was completed. This car was originally delivered with a cast iron manifold and Ford carburetor.  This was because Holley was having some trouble getting their carburetor certified.  This continued up until about car 1225.
The owner has taken delivery of it but a few trim items are still being located.  It was completely disassembled and stripped of all paint and undercoating.  All of the body imperfections were removed and then the exterior was are finished.
During the restoration it was discovered that this car had never had the quarter panel mounted antenna installed.  It was put in the normal right fender location.  The owner decided to keep it in the as delivered position.
The original quarters were on the car at the beginning of the restoration and have been saved to prove the position is correct. The bumpers were re-chromed and all of the trim was replaced are reworked.
The interior was completely redone. At this time a pair of fog lamps still needs to be located.  The owner has taken delivery of the car and it is home in New Mexico.