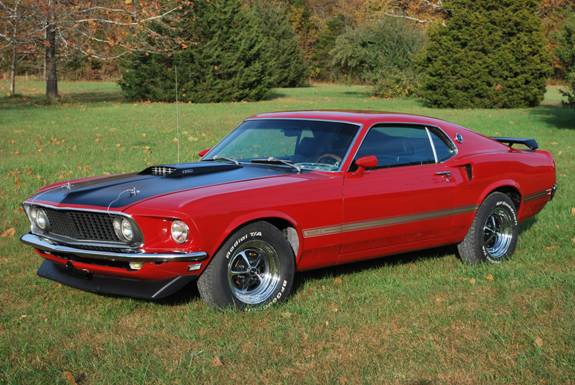 This car came to me after a neighbor saw my 1968 Mustang convertible in my garage. He was looking for a car and after some discussions he purchased this from my friend (and the 68 Shelby owner) in New Mexico.
It is a 351W 4-V 4 speed, tach car. It was delivered in June of 2007 along with my 1970 Mustang convertible. (See cars for sale) While it awaited its turn in the shop the owner and his son worked on it in their garage. They recovered the seats and worked on some mechanical problems. It entered the shop in January of 2008. It was decided to paint it Candy Apple Red and dress it up as a Mach 1.
There were small rust holes in the corners of both doors and a small rust hole in the left quarter panel but it was surprisingly rust free. Unfortunately it had been involved in a front end collision at some point and the hood and left fender needed to be replaced along with everything else on the left front. The front unibody structure was then repaired.
After stripping away the paint and primer on the car it was repaired and repainted. The owner opted to have the front suspension rebuilt and a rebuilt 4-speed was installed. The original Windsor has been replaced by a 351 Cleveland . Many new parts were purchased and installed on this car and the owner is adding his own stereo at this time.
The car came to me with multiple wiring issues and it was discovered that the standard dash had been installed in place of the correct tach dash. New wiring harnesses were installed and a tach dash was located. The tach was repaired, and now operates as when built.
This car was delivered in October of 2008. The owner and son are hoping to take the car to Tulsa , OK for the 2009 Mid America Ford and Shelby show in June.