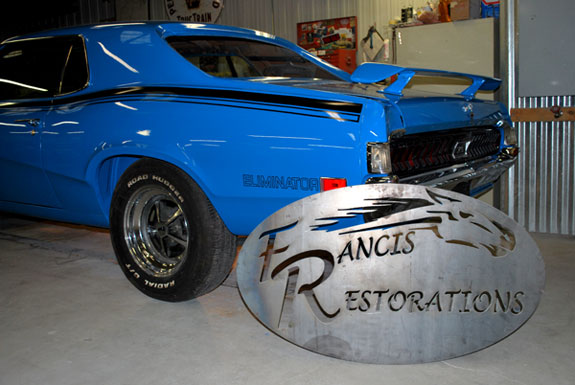 This is a 428 Cobra-Jet 4 speed car. It came to me from Albuquerque, NM and has been apart for about 20 years.
The owner rebuilt the drive line on this vehicle but contacted me about finishing the body and paint work. After delivery to the shop it was put on the rotisserie and the bottom of the car was sandblasted. There was some pin holing of the floor pans but not severe enough to warrant replacement. The lower rear corner of one quarter panel and wheel house was the only rust found on the car.
The owner wanted the bottom of the car painted body color instead of red oxide. All remaining paint was removed and imperfections repaired then it was painted in base coat and clear. The stainless trim has been straightened and polished. The bumpers have been straightened and re-chromed, along with the door handles and back-up light housings.
The original back window, door and quarter glass has had the scratches removed and polished. The front suspension has been rebuilt and installed. The brakes have been replaced along with the lines, master cylinder and brake booster.
The deck lid trim is still being restored and the interior will be finished at the customers shop in Albuquerque. The front and rear glass will be installed after the headliner is put in. All of the glass is new and date coded to match the original.
The hood trim will also be installed at the owners shop. This was a big project that took longer than expected while we waited on some of the trim to be restored. I am happy to see it go home and look forward to the next project.